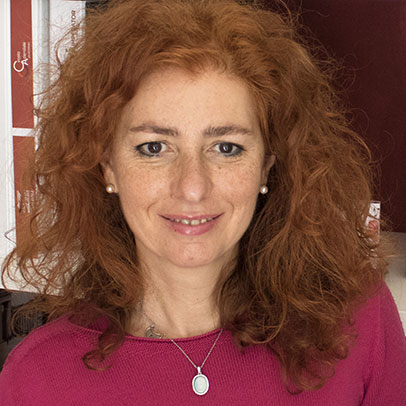 Elena De Giorgi
After graduating from the Enrico and Umberto Nordio Art School in Trieste, I worked at the marketing and communication agency "de Dolcetti" for seven years, and at the communication and multimedia production agency "Proxima" for four years, both of which are located in Trieste. During this time, I worked on graphic design, communication, and multimedia projects for some of the city's largest financial companies.
Together with a business partner, I founded the graphic design studio "Work in Progress" in 2000. I have been running the company by myself since 2014 and it is now called "Work in Progress Plus".
I have been taking painting and life drawing courses for many years at the Scuola del Vedere Free Academy of Fine Arts in Trieste. My teachers have included: Paolo Cervi Kervischer, Marino Cassetti, Raffaella Busdon, and Christian Hache.
Fascinated by the potential of digital painting, I have dedicated a lot of time to developing my own particular style, and I have taken part in several exhibitions and competitions, including the Palme d'Or at the Artoulouse international competition in 2013, and the Art in Mind collective exhibition at the Brick Lane Gallery in London, also in 2013.
In 2016, I was one of the finalists selected for the exhibition held by the Bevilacqua La Masa Foundation in Venice for the Favini international competition "Societies on the Move", with my illustration entitled "Global Family".
My works can be viewed on my website elena-degiorgi.com and on Instagram.